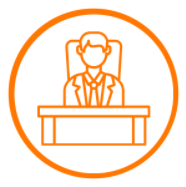 Business leaders and owners
It is important for CEOs and business owners to see the overall financial performance of the company so that they can immediately see the results of operations, trends and even potential risks. Reports designed for managers help to make timely business decisions and successfully manage the company without wasting time.

Heads of company departments and senior specialists
For this group of employees, reports are developed in much more detail, which allows you to expand the data from the general reports and receive specific and detailed reports necessary for daily work, planning or monitoring. This group includes sales managers, production managers, warehouse managers, HR specialists and marketing specialists. Individual reports are developed for each group of specialists in order to be able to quickly receive the necessary information and monitor the progress of work.
For finance executives
Financial managers, chief accountants, and data analysts can quickly and easily receive regular financial reports, reports in various data sections, and quickly spot errors and inconsistencies in accounting data using business intelligence reports. These reports save time and money by eliminating the need to hire countless staff to manually prepare the required reports.